Creatures with extremely diverse qualities meet in this dance piece. Through their joint experiences they slowly begin to realize that there is opportunity in diversity, if they join forces and complement each other. Together they succeed in overcoming obstacles and discover new perspectives on even the trickiest of situations.
The three company members tumble their way through a colourful range of concise episodes and images that draw their character from the imaginative and varied stage design, the props and in particular the costumes. It only requires balloons, tights and – above all – heaps of paper to realice it. It is just unbelievable how much you can do with it!
Since 1999, Company MAFALDA has produced dance theatre pieces. Five years ago the choreographer Teresa Rotemberg has focus in the interests of the young audience producing shows for them.
SUPORT: Company Mafalda is part of the cultural foundation Pro Helvetia platform, international flight tickets on tour will be covered.
We are ready to perform in your city!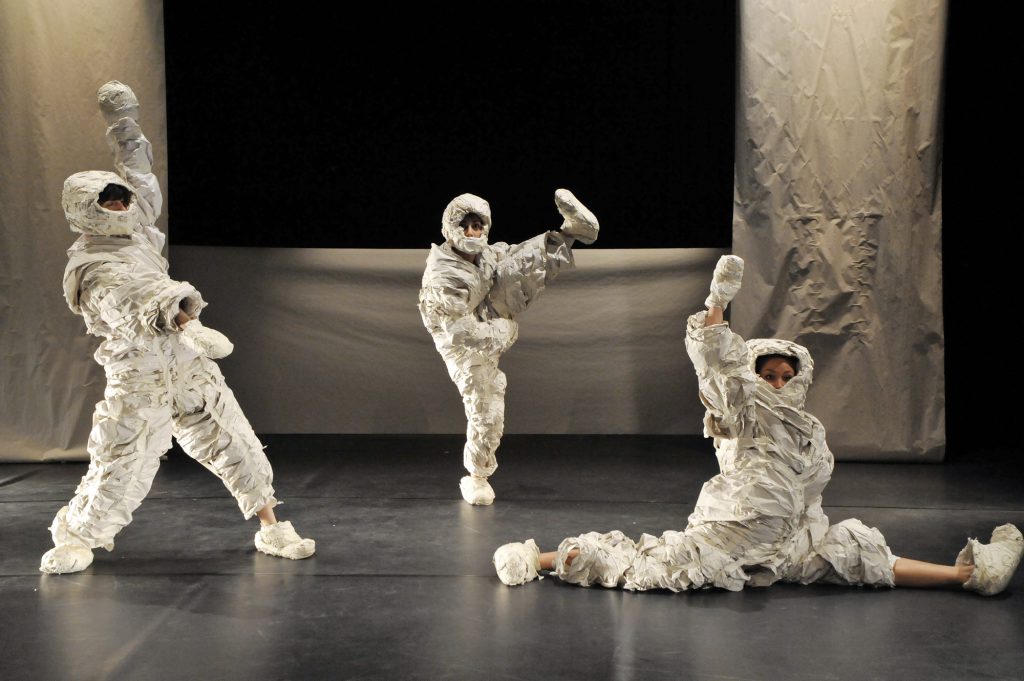 NEXT PRESENTATIONS
2023. Theater Uri, Zick Zack Puff 10th Aniversary. Altdorf, Switzerland.
WE HAVE BEEN PART OF
2023. Luzerner Theater, Zick Zack Puff 10th Aniversary. Luzerne, Switzerland.
2019.  Kliker Festival, Dance Festival for Young Audiences in Varazdin, Croacia.
2018. 21st Cyprus Contemporary Dance Festival, Rialto Theatre Limassol. Chipres.
2018. Skopje Dance Fest 2018, Macedonien National Theater. Skopje, Macedonia.
2018. International Festival for Contemporary Dance Tanzwoche Dresden. Dresden, Germany.
2018. International SOY FESTIVAL! in Tecnópolis. Buenos Aires, Argentina.
2017. De Betovering – The Enchantment, International children's art festival. Den Haag, the Netherlands.
2017."Cradle of Creativity" ASSITEJ International Festival and Congress. South Africa, Africa.
2016. International Festival  FAMFEST. Santiago, Chile.
2016. Festival Internacional de Danza PRISMA, Panamá.
2016. Vacaciones de invierno en la Usina del Arte, Buenos Aires, Argentina.
2016. Festival Internacional de Rafaela, Santa Fe, Argentina.
2016. Teatro Nacional Rubén Darío. Managua, Nicaragua.
2016. Alianza Francesa "Festival Francofónico". Managua, Nicaragua.
2016. Presentación a cargo de la Embajada de Suiza. Lima, Perú.